Tell me again how they are the lesser evil…
Nancy Pelosi…  Chuck Schumer…  those are the names of the leaders of the Democratic Party.   They set the tone, develop & implement the policies and enforce "allegiance".
They ARE the Democratic Party, just as much as Trump is the Republican Party!
Now lets look at one of them a bit closer…  (I'll get to the other one later):
Nancy Pelosi, who some would say is the highest ranking member of Trump's Shadow Cabinet, steadfastly refuses to even consider impeachment.  She has made it clear that Jerry Nadler is risking his own political life by pursuing impeachment inquiries.
Only a few days ago she "nuked" all party support for Medicare for all.  She even went so far as to say that even after the Democratic Party won the White House and had total control of Congress it would only be considered based upon, partly, the "costs to business, to corporate America".
She also did her damnest to prevent climate change laws from ever seeing the light of day.  You can see proof of this by her having put Kathy Castor, a fossil fuel profiteer, as Chairperson of the Select Committee on the Climate Crisis AND didn't put a single one of the architects of the Green New Deal on the Committee at all.
So there you have her.  She is anti-impeachment, even though it is supported by 70% of all Democratic voters (which makes her pro Trump's policies & actions); is anti-Medicare for All, even though it is supported by 87% of all Democratic voters (and even had one of her top aides meet with insurance executives and tell them not to worry about Democrats pushing Medicare for All);  she is anti-environment, in spite of the fact that the majority of registered voters (63%) are worried about global warming, (including 88% of liberal Democrats and 76% of moderate/conservative Democrats).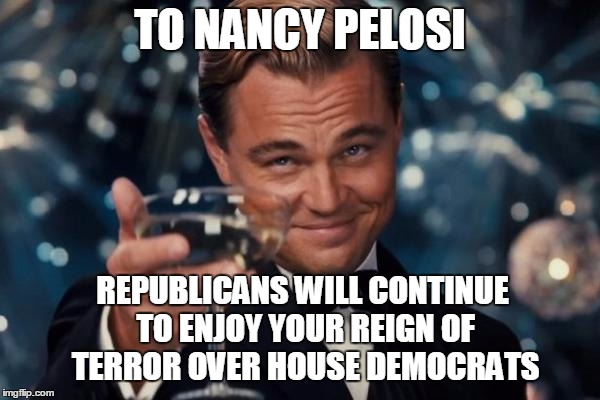 Against impeachment…  against meaningful healthcare reform…  Against defending the environment…  against the three biggest issues supported by Democrats (and major "go/no go" hot buttons for Leftists and Independents) and FIRMLY in alignment with the Republican platform.
She is one of the LEADERS of the Democratic Party and, quite possibly, their lowest, most powerful voice.
Now tell me again how they are the "lesser evil" when they support the EXACT same evil as those other guys!
P.S.  …and, no I don't really expect any responses or comments.  I'm guessing "behind the scenes" word got passed AGAIN that I am to be shunned for daring to insist that people do what ever they can to unseat the fascists in Israel.   No biggy.
272 total views, 1 views today